5 Arrangements That Are Totally #FallVibes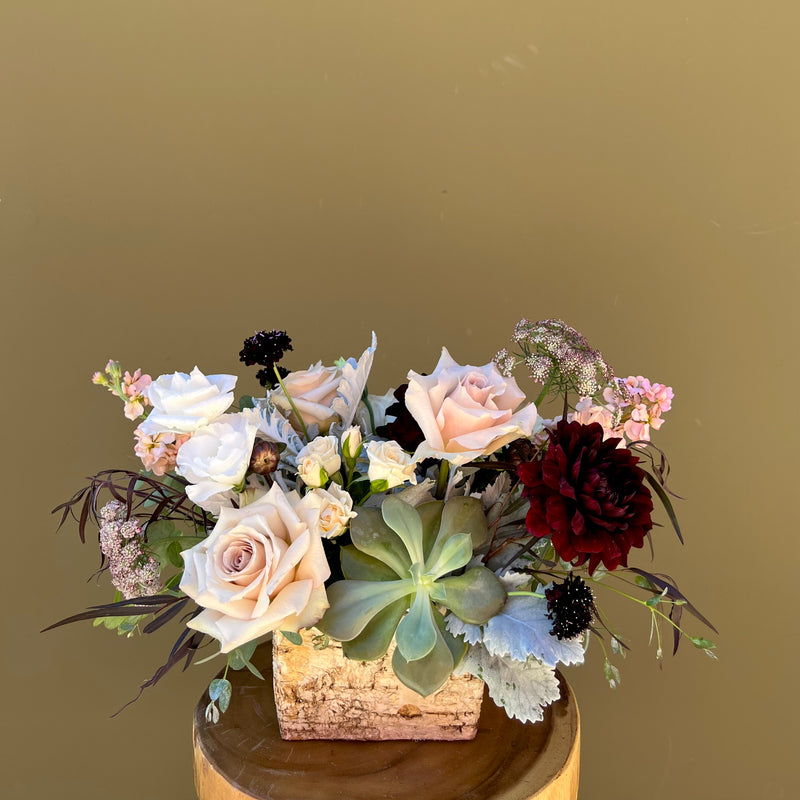 Fall is almost here and we couldn't be more excited! From bold burgundy hues to bright orange the color of Jack-O-Lanterns, fall flowers promise to bring all the fall vibes to any space. Whether you love getting into the spirit and wish to have a fresh arrangement for your home or you simply want to send the best birthday flower arrangement to your Virgo, Libra, and Scorpio friends. 
To help guide you on what arrangement we think is the best for the occasion, we have our top 5 arrangements all of which are new, that we think are the epitome of fall flowers. 
1. Frida 
Follow @theenglishgarden_la | See the Frida arrangement here.
Frida was inspired by the artist of the same name, Frida Kahlo, the famed Mexican painter who created stunning works of art full of life and color. When we think of Kahlo one of the first thoughts that comes to mind is the liveliness that came from her paintings. 
Her paintings were often tied to personal accounts of her life and as such encompasses a lot of energy. From the sprawling nature of some of the plants she featured in her work, we created this arrangement in the same sprawling manner. Snapdragons and stock, along with touches of clover, are kept longer to give it that effect. 
Marigolds, a popular flower used in Day of the Dead celebrations are included alongside bright pink roses and deeper pink cosmos. Meant to be an arrangement full of life and cheer, the contrast of the bright orange marigolds with the various hues of intense pinks, makes the Frida arrangement vibrant. 
We recommend this arrangement as a birthday gift because of its cheerfulness while still maintaining a fall aesthetic. If you are considering an arrangement for your home as part of your fall decor especially if you are having guests over, placing a few mini white pumpkins around the arrangement would be perfect. 
2. Gather 
Follow @theenglishgarden_la | See the Gather arrangement here.
Last year, one of our most popular arrangements was Hello Fall and it came in a rectangular birch container just like this one but longer. This year we wanted to offer a smaller option that is more appropriate for small spaces. 
Gather features a muted palette with pops of deep burgundy flowers such as dahlias and scabiosa. I think the natural, semi-rough texture of the birch pairs well with the smooth pale pink petals of the roses. 
To further push a contrasting element, we included dusty miller as part of the greenery. Dusty miller is one of our favorite greens for fall and winter because of its almost white color and velvet-like touch. Besides the dusty miller, we placed a large succulent head further pushing the various textures in this one arrangement. I can't say enough how important various textures are for creating a dynamic arrangement. Not only does it add interest but it really dazzles the eye. 
Gather is ideal not just for fall decor in your home, but it makes for a touching piece of sentiment to someone who is going through a tough time. The soothing and subtle colors make it especially appropriate. 
3. Happy Harvest 
Follow @theenglishgarden_la | See the Happy Harvest arrangement here.
Happy Harvest is a celebration of Fall with its abundance of fall tones primarily warmer tones such as orange and yellow. It reminds me of a scarecrow for this reason or of a field of hay bales one may find at a local pumpkin patch. It's smaller in size making it the ideal size as a get well or thank you gift but at the same time it's so cheerful that it could do well for birthdays. 
For the yellow-lover in your life, we included yellow roses which like all of our roses, are premium. Premium roses have a longer life than your average grocery store rose and they come in the most vibrant hues. 
Can you believe the orange flowers are tulips? We love flexing tulips and seeing how they transform from what you normally think of tulips to these almost cosmo-like blooms. These orange tulips in particular feature a yellow center that fades almost too perfectly into a bright orange. 
Also, featured are chrysanthemums which have a very, very subtle blush hue further complimenting the harmonious warm palette. Their fluffy heads go well with the roses and tulips, and for a special touch, we added a dried mushroom. 
The dried mushroom comes in mustard with one side having a highly textured surface that is rough to the touch, while the other side is less so. The wonderful thing about receiving an arrangement with dried elements such as this is that since it's preserved you can keep the dried mushroom for years to come. Simply remember to leave out of direct sunlight to avoid losing its color. 
4. Hocus Pocus 
Follow @theenglishgarden_la | See the Hocus Pocus arrangement here.
Another name that comes to mind for this arrangement is spellbound. The Hocus Pocus arrangement is truly magic in flower form. From the round half-moon glass vase to the flow of flowers stemming from the vase, it gives an illusion of movement. To create this effect we kept many of the stems longer and arranged them at various angles with some blooms peaking beyond their companions. 
Among these sprawling blooms are deep burgundy scabiosa, Queen Anne's lace, and chocolate lisianthus. The chocolate lisianthus is something you won't find very often, especially outside of fall. Its center is a pale green while its extra ruffly petals end in a chocolate tone giving it its name. It's the only non-pink flower in the entire arrangement setting it apart. 
The predominantly pink palette has various shades of pink with my favorite being the bright pink roses that are a near hot pink. The stock is another favorite for its enchanting fragrance that will draw anyone in, and then there's the touch of amaryllis hanging off on the left lower end. It's caterpillar-like tendrils reach out from the mass of blooms not to be missed! 
There is an elegance in the way the glass vase frames the base and showcases the complex silhouette of stems, but the real magic is in the overall composition of the blooms. I can see this arrangement being a luxurious birthday gift for someone special while also gracing one's table for fall.
5. It's Fall Y'all
Follow @theenglishgarden_la | See the It's Fall Y'all arrangement here.
It's Fall Y'all is perhaps one of the most playful of fall arrangements from its polka dot container to the rest of the lighter palette. At its center, there's a bright yellow dahlia the color of the sun and surrounding it are light pink blooms. For a touch of boldness, we included brain celosia, a type of cockscomb that looks like a brain. Its so fuzzy that you can't help but run your finger along its wavy petals. 
We also included dried orange slices which can be kept for years since they are preserved. We recommend incorporating them into your fall decor after the arrangement has died and even using them in your gift wrapping for the holidays. 
This arrangement is larger in size making it ideal for a larger round table, but it can also be gifted for nearly any occasion. The color palette is both soft and a tad vibrant making it ideal for a birthday or to say thank you. 
If you wish to see our other fall arrangements you can see them here. They will be available for purchase closer to fall and if you are subscribed to our newsletter you'll be the first to know. Simply sign up at the bottom of our homepage. 
We offer same-day delivery to cities such as Thousand Oaks, Westlake Village, Calabasas, Moorpark, Malibu, Simi Valley, Oxnard, Ventura, Camarillo, and more.