Trending for Fall: Bright Florals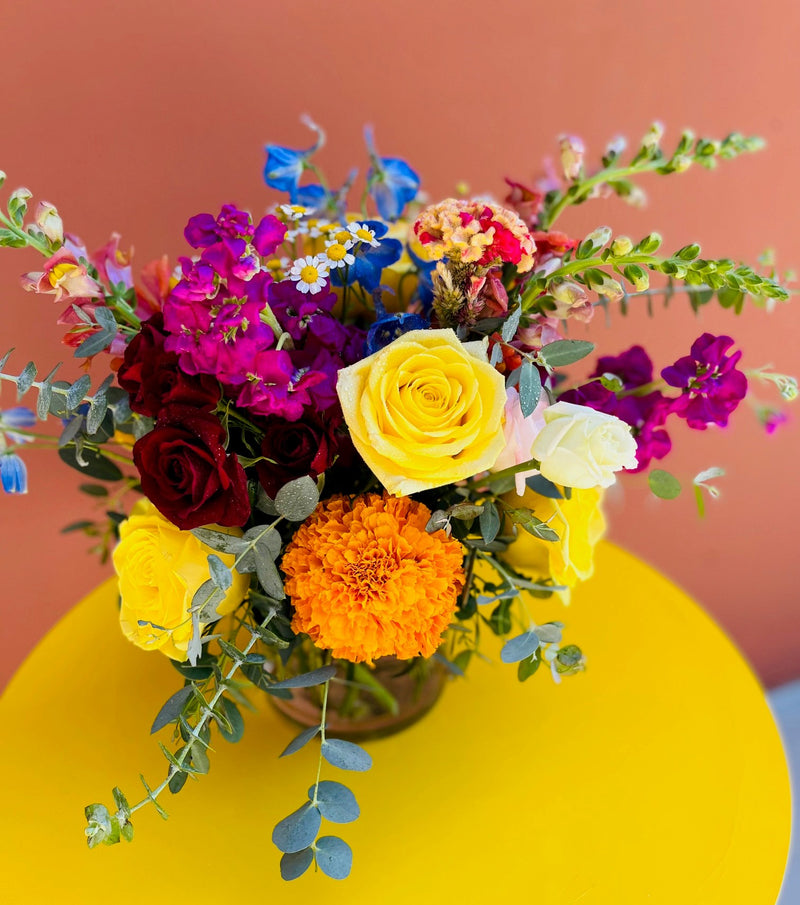 Ever since the pandemic bright and bold colors are in. Not that they were ever really out of style, but given the hardship of the pandemic, bright and bold colors are sought as a means of leaning into optimism. Even in the flower world, there's never been a higher demand for color than now.
As we shift into the fall season and while there may be more moody-colored and jewel-toned flowers available, rainbow color palettes are still one of the most popular requests we hear.

How do you embrace fall while craving a rainbow of colored flowers? Not everyone is ready to jump into classic fall tones, and how do you send someone flowers while embracing this wonderful season?

For this reason, we have dedicated some of our newest fall products to feature color while still appearing autumnal.

For all the pink lovers who wish to send cheerful yet not over-the-top colorful flowers, the Hocus Pocus arrangement is for you. Featuring an array of pink flowers in various shades, this arrangement isn't too bright due to the near burgundy dahlias. It's the perfect arrangement for that friend who loves the spooky season. While the Hocus Pocus arrangement is large and sprawling, there are other smaller arrangements that feature all pink flowers such as Fleur.

Comparable to the popular Pixie Dust, Fleur is a small arrangement with an all-pink palette. Don't let its small size fool you though, in person this charming arrangement has sprawling elements such as snapdragons and stock with the latter having a subtle fragrance. There are lisianthus and roses which are both ruffly and gorgeous, with buds of lisianthus in light green. Unlike the Pixie Dust, Fleur comes arranged in a modern ceramic container which your recipient can reuse for potting plants.

As always, our super popular Rainbow Designer's Choice is available and comes with an array of flowers in various colors thus creating a rainbow palette. While we are in the process of updating the photos to reflect the current flowers we have available for this arrangement, rest assured that no matter the season you will always get a rainbow.


While summer gave us gorgeous peonies and ranunculus to play with for this designer's choice, fall has given us dahlias in some of the most fun colors such as pink and sherbert. Then there are marigolds for a loud pop of orange.

The Rainbow Designer's Choice is a great choice for birthdays as well as congratulatory celebrations. It's also a great idea for anyone in need of a little cheer in their lives especially as we enter the dreaded flu season.

You can also find brighter tones in our preserved flowers collection. I think dried flowers go hand in hand with the fall season. Perhaps it's the way dried flowers tend to darken giving them richer hues that makes them so perfect for the season.


Take these red roses that turned almost black once they had dried. This is a custom preserved arrangement we created for a client who wanted both dark and bright flowers. Besides the roses, we used millet which is very fall-time appropriate due to its color and texture, as well as purple dyed Italian ruscus. These dramatically dark tones paired really well with the touch of bright pink strawflower.

Strawflower is a great dried flower to have around for fall. It dries well and keeps its color for the most part. We have strawflowers in a variety of colors from hot pink, blush, white, dark purple, bright yellow, and our favorite for fall, burnt orange.




Another great option for combining both color and fall is with a wreath. There's something utterly cozy about a wreath hanging on the front door that seems to be synonymous with fall. My favorite wreath that is both colorful and appropriate for fall is the California Wreath.


The California Wreath is built on a grapevine wreath making it a unique choice from the typical wreath, and it is adorned with entirely dried flowers. Orange marigolds are the main star with a sizeable cluster in the front with a few stems shooting out the sides, then we have a pop of pink babies breath to soften things up a bit. Other elements are added along with a touch of purple clover.

I think the orange marigolds give that classic fall twist on this wreath while the addition of pink babies breath adds that pop of color and contrast. The fact that this wreath's flowers are mainly on the bottom rather than encompassing the entire base is a modern take and allows the grapevine to be admired. It's definitely one of our favorites and a popular choice for hanging on one's door at the end of summer since it easily transitions into fall. 
We offer same-day delivery to cities such as Thousand Oaks, Westlake Village, Calabasas, Moorpark, Malibu, Simi Valley, Oxnard, Ventura, Camarillo, and more.