DIY Your Own Easter Bud Vase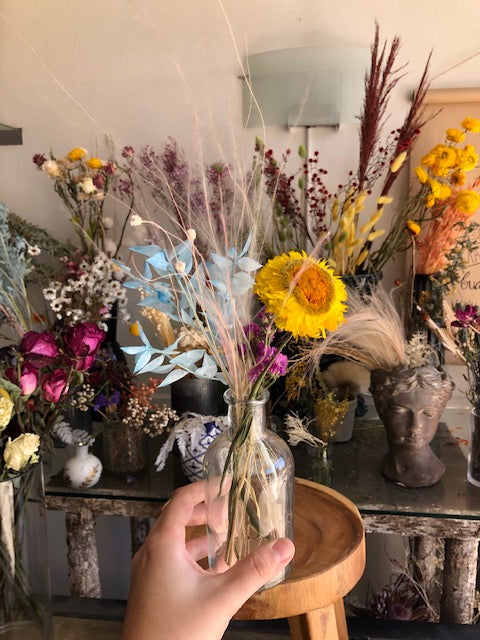 Spring is in full bloom with Easter right around the corner so there's no better time than now to fill your space with flowers. One of our favorite spots in the shop this spring has to be our preserved flower bar. Not only does it host a wide variety of preserved flowers, but we've collected a rainbow of gorgeous colors. Our preserved flower bar is ideal for Easter because with a few tips you can build your own bud vase for your Easter festivities.
To begin building your very own creation, you will want to start by choosing a bud vase. We have many options to choose from with varying heights and colors. If you are creating a table scape with bud vases I suggest choosing varying heights and colors to build interest. You will also want to think of a palette you will want for your flowers. Neutral tones look perfect in smoky and amber glass, and if you choose to make a colorful statement you can use blue and pink glass, while clear and green glass goes with anything. Today, I've chosen to go with a clear bud vase.
I choose my first piece which is this gorgeously blue Italian ruscus. I was instantly in love with this shade the moment it came in the shop. The sky blue tone is perfect for Easter and won't overpower the other flowers that will soon go in.
I want to note that when cutting dried stems it's important to not cut them too short to give yourself room to angle them and position them into place. I gently spread the little branches out on the ruscus to hold it in place at an angle and give it a more interesting look. I recommend that for the base of your bud vase that you choose something with structure and nothing too dainty. Daintier pieces can go in later.
I choose my superstar element aka the main flower that I want to build around. For this you can choose any bloom that catches your eye. I chose this bright yellow strawflower because it reminded me of the sun and thought it would go well with the blue ruscus. The stem on this particular flower was very curvy so it made it a slight challenge to push the flower in without breaking the stem. It's best to handle each preserved element with care when assembling your bud vase and of course we are always here to help.
With so many solid, edgy textures already in the vase it's now time for something completely different. Contrasting textures is always a good idea because it keeps arrangements from looking flat and creates a dynamic look. For my softer touch I used this lovely feather like grass that dances effortlessly with the smallest breeze. I loved the flow, motion, and way it towers over everything without being too much.
With so much height I needed something lower and vibrant to build on the Easter palette. I chose these purple flowers to heighten the vibrancy and pull more of those bright yellow shades out of the strawflower. I cut them slightly shorter than I have been cutting everything else just to give some coverage to that middle ground.
Now it's time for those daintier flowers to give it a special spring time touch! If you look closely you will see the new additions of the most miniscule white flowers just in front of the contrasting blue ruscus. When choosing amounts of blooms its best to stick to odd numbers so in this case I carefully cut three of these blooms at slightly varying heights and angled them to shoot out from the left side.
I could have stopped here but felt that I needed just one last touch in the front beside my strawflower. To keep it simple I grabbed some more of the grass this time in a subtle blush tone and trimmed it a bit to not impede the flowers behind.
To summarize, you simply choose a bud vase, add your structural base element, your main flower such as strawflower, then you add contrasting textures, and finally a dainty touch. It may seem a little intimidating especially given the delicate nature of preserved flowers, but they are heartier than they look and are such a joy to work with!
Build one, two, three, or more of your very own bud vases and arrange down your table for an Easter tables cape or scatter them throughout your home. They also look great in an Easter basket and make easy party favors. At $18 a piece they are a budget friendly way to celebrate Easter and the rest of the spring season.
Ready to arrange your own bud vase? Visit us anytime during business hours and we will be happy to help you! For business hours and our address you can find it here.