Wedding in Review: "It's Showtime!"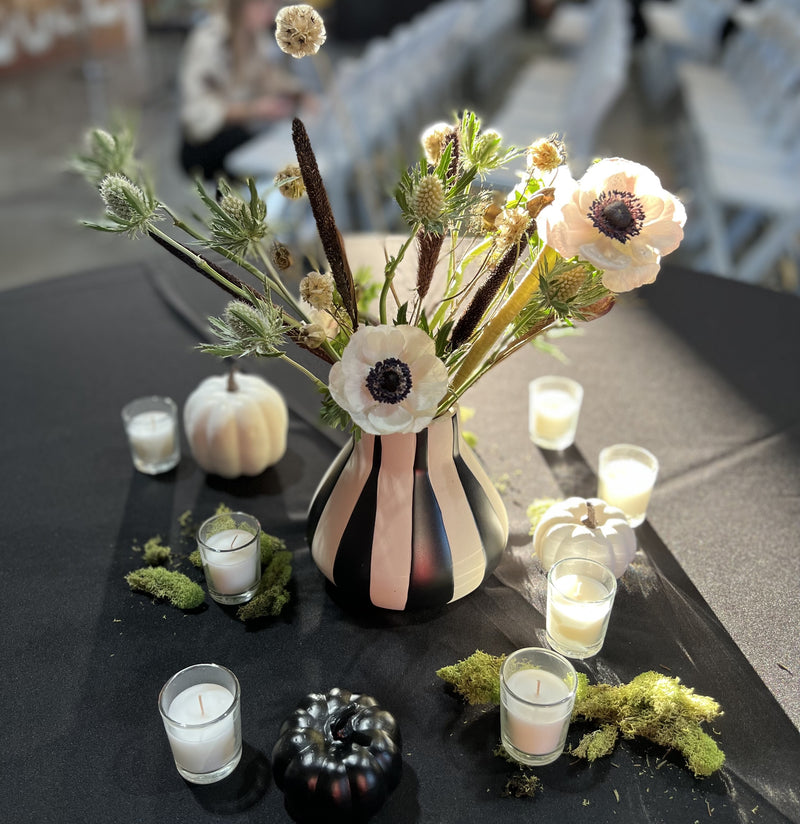 One of our favorite aspects of working on weddings is seeing the many different ways couples showcase their personalities in their receptions and ceremonies. A wedding is an opportunity to declare your love to the world, with your friends and family as your witnesses, and it's so much fun to see how each couple chooses to do that. We've had the privilege of seeing many unique and creative weddings over the years, but our favorite has to be a Beetlejuice themed wedding that we did for Monica and Dylan on October 29, 2022.
Understanding the Vision
As soon as the inquiry came in, we were elated. We knew that this would be an incredible opportunity to flex our creative muscles and make something special. Most importantly, we could tell immediately just how much fun it would be to work with the couple to execute their vision. That's what was most exciting – being a part of something so FUN! Elegant bouquets are, of course, classic and timeless, but we love the whimsy and wonder of making something unique. Plants and flowers are a work of art, and getting to have fun with these beautiful, living pieces is one of the best parts of this job. 
Lucky for us, our shop assistant, Lorena, was just as big a Beetlejuice fan and she got right to work creating a mood board for the couple (complete with Tim Burton theme music for inspiration!). It wowed not only us, but the couple as well. For the inspiration, we pulled flowers and vases in black, white, plum, deep red, and added a mixture of fresh and dried flowers to create an eerie, haunted look. We love using our dried flowers in wedding bouquets and always recommend them to clients when the theme or vision allows it. Since they've already been dried and preserved, they practically last forever, so you'll always have a piece of your big day. In the end, we were able to create something truly spectacular for Monica and Dylan. It was a themed wedding for the books and one that we were honored to be part of.
Personals, But Make Them Spooky
the bridal bouquet 
the groom's boutonniere
For the personals, we knew we needed to create something eye-catching. The bride was going to be wearing a bright red dress, so we needed something bold to match, but not so bold that it would compete with her gown. It was a delicate balance. For her bouquet we decided on blood red roses, plum calla lilies, dried branches, and agonis. To this day, this is one of our favorite bridal bouquets. We felt that it so perfectly encapsulated the theme and looked like it was plucked straight from a Tim Burton movie. For the groom, they wanted a classic pin-on boutonniere. We chose a dried red rose with agonis leaves and a black ribbon to compliment his red tuxedo and the bridal bouquet.
Centerpieces, Centerpieces, Centerpieces!
sweetheart table centerpiece
cocktail table centerpieces
The centerpieces were where we were really able to let loose. The venue, the Valley Relics Museum, is so bold and eccentric we had to make sure that the arrangements stood out too. Since each of the tables were kept simple with a black tablecloth, this was our chance to go all out with the theme. For the circular cocktail tables, we chose black and white striped vases (we were so thrilled when we found these!) and filled them with white anemones, cream scabiosa pods, green thistle, and agonis. We adorned the vases on the tables with miniature black and white pumpkins, reindeer moss, and white votive candles. For the sweetheart table we used a glass, rectangular vase and filled it with maroon dahlias, plum calla lilies, plum tulips, nigella pods, and thistle. The combination of the full and bright dahlias with the tapered lilies and tulips created an amazing shape and asymmetry. This arrangement was also adorned with reindeer moss and white votives. We love mixing and matching containers to meet the demands of the theme and the venue. Our bud vases are a classic example of this. They're a very popular choice for wedding tables (dessert, cocktail, welcome, sweetheart, etc) since we can easily choose different amounts and colors to accomodate the size and shape of each table.
close-up of centerpiece
The Takeaway
We had an absolute blast working with Monica and Dylan on their wedding florals. They were a joy to work with and they really trusted us throughout the process. We are all so appreciative of them and that we got to be part of such a special and unique wedding day. As we mentioned in the beginning of this blog, it is so exciting when couples make fun a priority on their wedding day. After all, it's one of the most important days of your life – it should be fun! If you'd like to see more weddings and events that we've participated in, check out our events page. From colorful, to classic, to funky, we've done it all and we're always eager to bring more visions to life.
For inquiries in our services for your special event, please drop us a line at theenglishgrdn@gmail.com 
Venue: Valley Relics Museuem, Van Nuys
Photographer: Jose De La Torre